---
this series explores the relationships between the human body, space and the objects that occupy it. by way of introducing anthropomorphic landscapes in a domestic or familiar built environment, the viewer is invited to imagine an environment where bodies infuse in the tangible space as much as they affect the invisible one. anatomy started as an explorative and iterative casting process taken from different bodies. the collected shapes and parts become design instruments creating the opportunity to add, subtract or transform them into a novel, redefined body."



---
with karim nader studio
interior design, furniture design
location
beirut, lebanon
"she had a clear vision: her zen mood, extended in purity and simplicity, and her innate refined elegance.

through a series of conversations, we decide to preserve memorable items from the previous family house with its african references and ethnic texture. but in order to achieve the necessary lightness, we also had to tone down the atmosphere.

from the entrance, to frame the sea. there will still be a sofa looking towards you, but as low as possible, horizontally invisible. two big glass tables with floating trunks, a carefully embroidered piece of the migration series, two summerland chairs and a rocking chair for the baby to come. on the ceiling, lighting as garland, to celebrate.

in the second living, suspension and light tables to go with the swing chairs, the fireplace this time preserved on a white wall background.

in the dining room, suspending glass on sculpted trunks, the jungle again, but abstracted.

she wanted to extend her zen mood, her space this time as her motherly embrace."


photos
marwan harmouche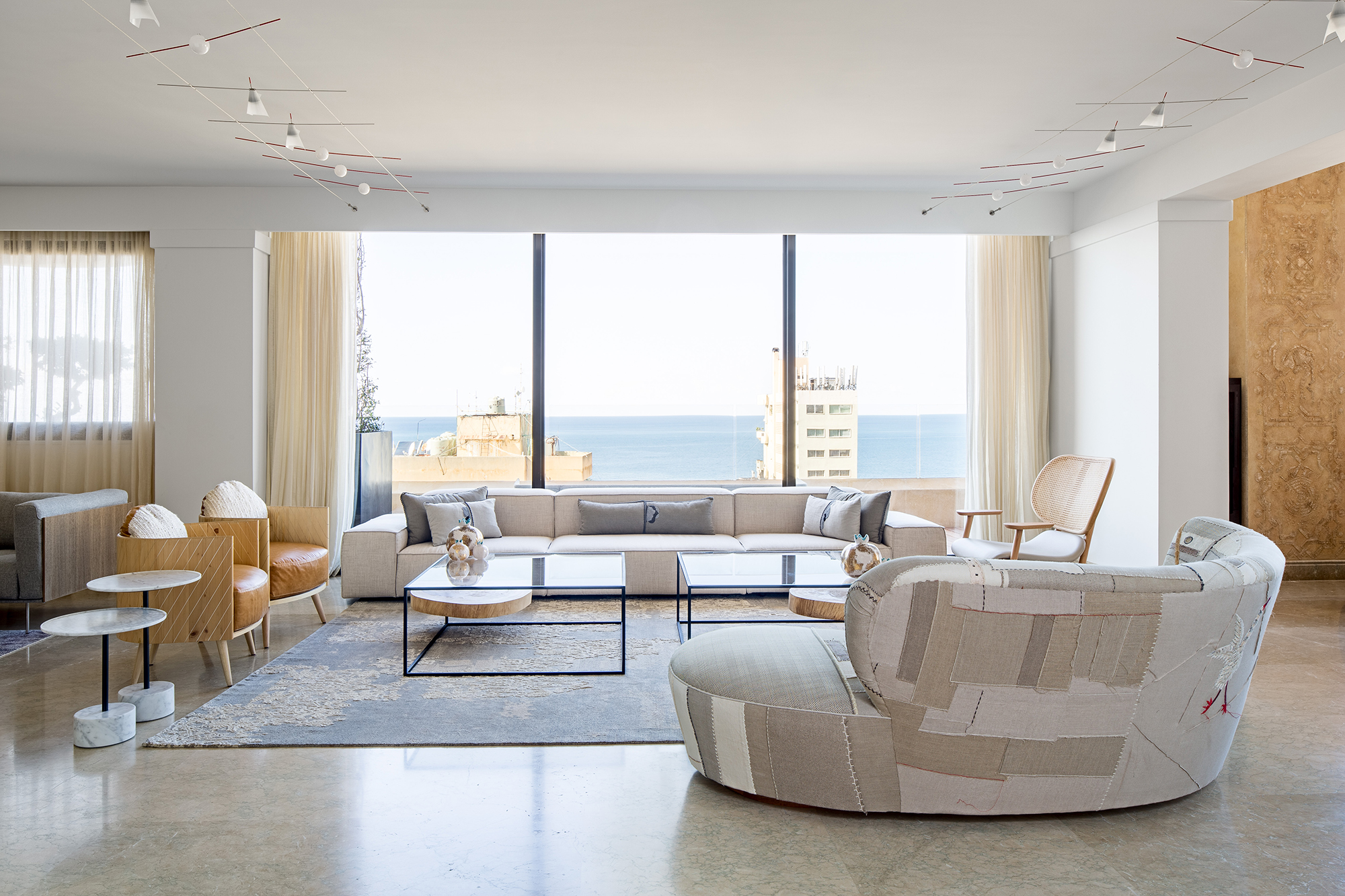 ---
2015
micro-architecture in nature
with go hasegawa x domaine de boisbuchet
installation
location
lessac, france
short film
watch
a design for the community, we wanted to create micro-architecture in nature - something more sustainable than furniture yet smaller than a hut - will will serve as an object to experience in a more lively way the natural beauty of boisbuchet.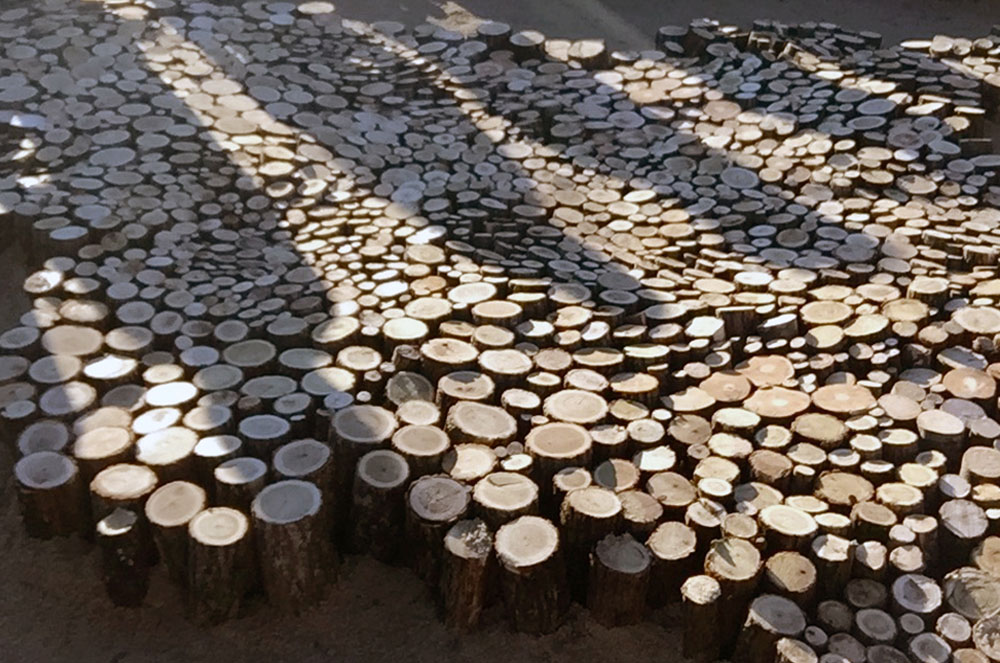 ---
two seesaw installations, radio silence and guard band, test the limits of the two sites they are placed on in horsh beirut.

radio silence goes through a locked gate of the fence that separates the public and private part of the horsh. the public side is open every day while the private is selectively open for foreigners and for those who have municipal approval during the weekdays, and open for all on saturdays. it tests the horizontal extreme of the private side, the contrast between the two ends, and the negotiation that must occur between the people on opposite sides for the installation to work. they would then proceed to face each other, only to find out that the gate blocks their vision from seeing one another. when the communication is lacking, the installation remains in silence. the irony lies in the fact that the support of the seesaw locks around the gate, adding to the notion of political bias that we intended to highlight. the dormant state of the seesaw only strengthens our point.


guard band has been put on the vertical extreme of the horsh. the crowns of the trees form an interior belt around an open space. the urban landscape forms an exterior belt. the source of the urban sound, as in the streets and cars, remains unseen all the while unifying the three different sectors (qasqas, shiyeh, and badaro) that border the park through an unawareness of where each one is. the twist in this site positioning is that once placed in the middle of the wilderness, the urban noise only increases. the seesaw comes with a twist. the users are facing opposite one another. it rotates 360 degrees while going up and down transforming the urban background into a foreground highlighting the visual and sound difference between the two surrounding belts.

for both installations, our group played with the ironies and thresholds that each site posed, using sound in its abundance, difference and absence to inspire our architectural interventions. they are both invitations for people to interact and communicate, while creating an awareness of the surrounding environment.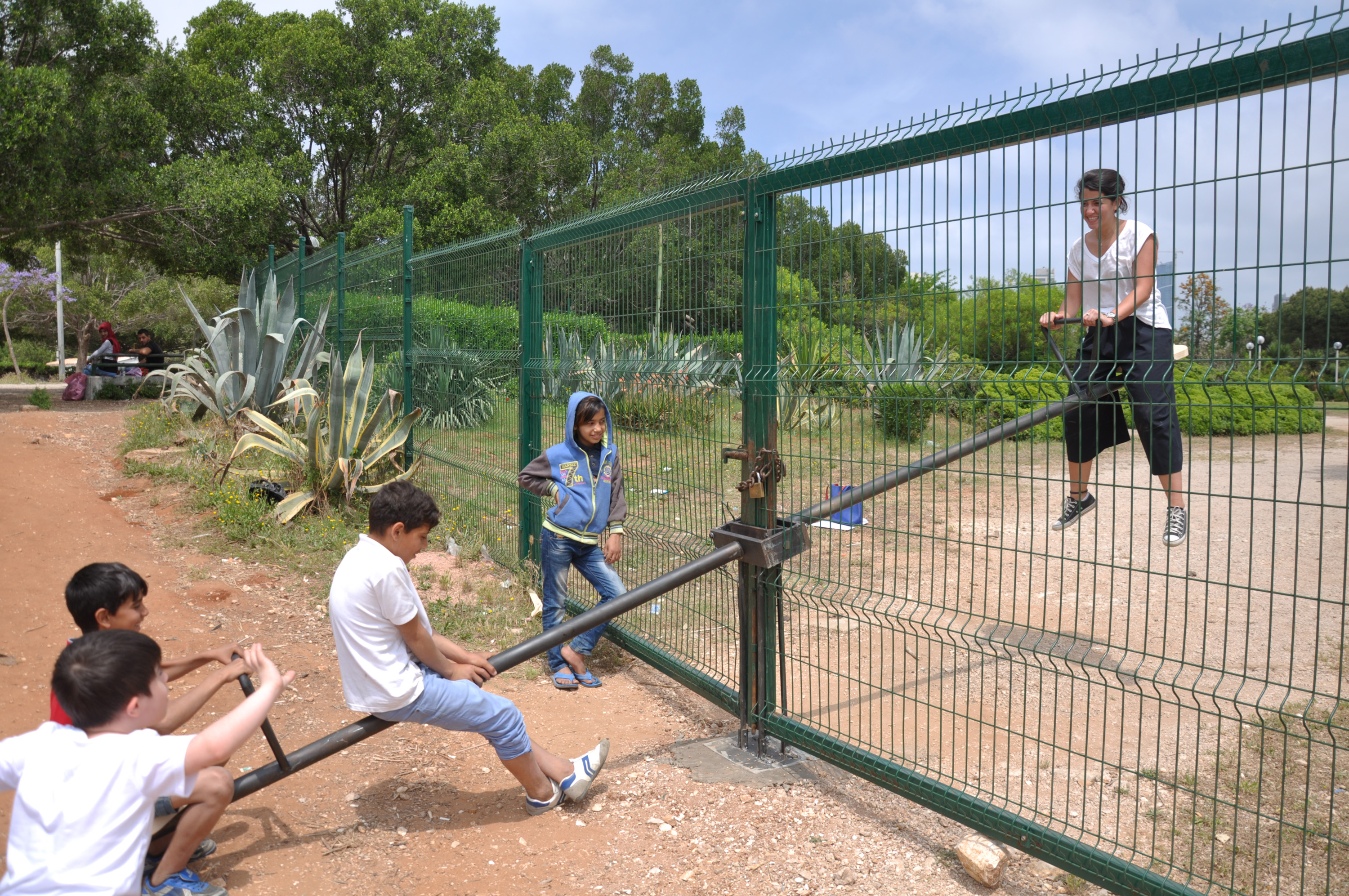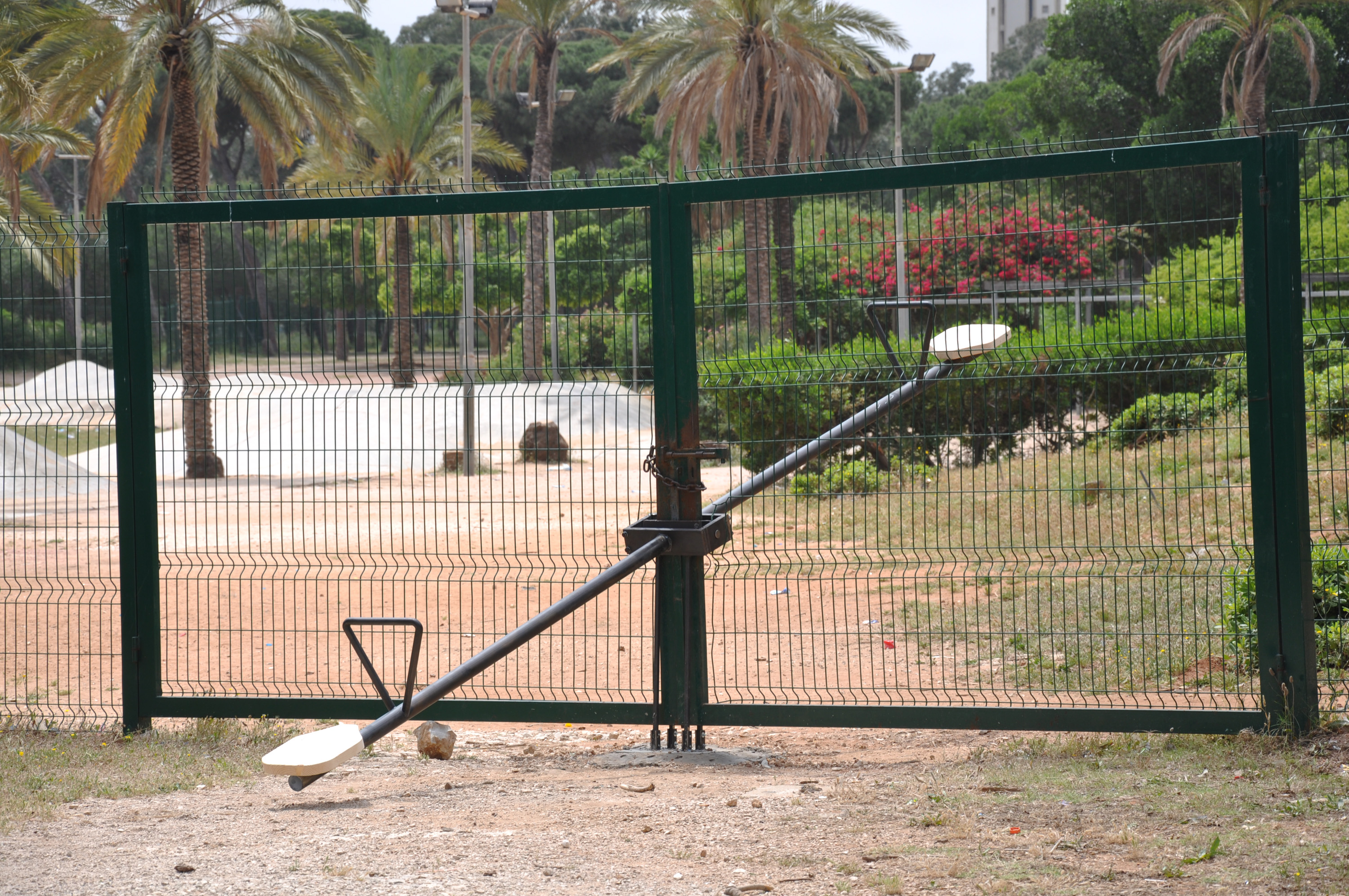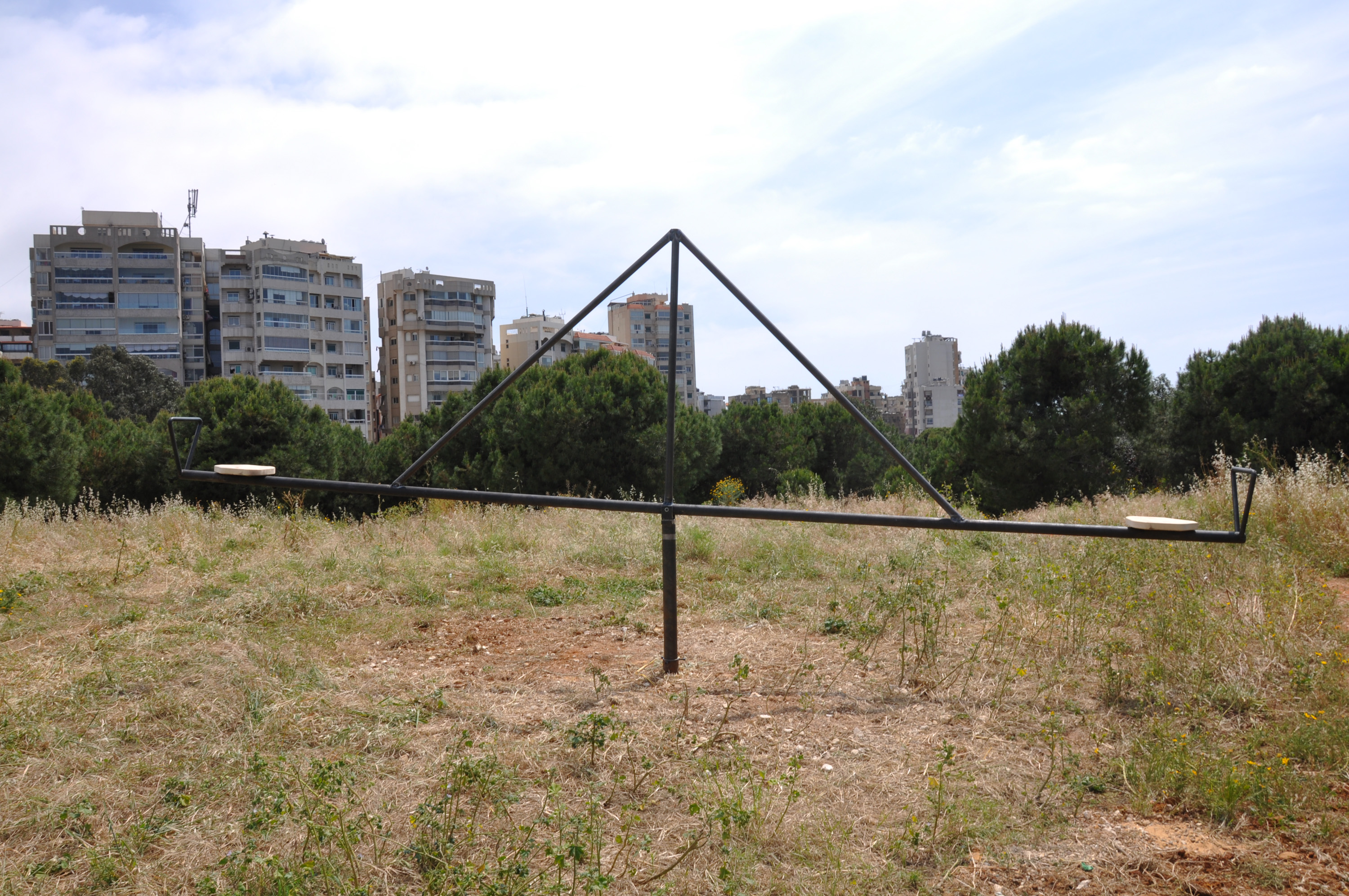 ---
architecture & culture: geometry & islamic design
product design
a 3D object is designed from an extraction of a 2D square grid pattern.

---