---
beirut design fair showed lebanon's multi-disciplinary diversity
by tracy lynn chemaly, october 2019
project: anatomy

read more
with many of its furniture designers being architects and interior designers, lebanon's creative pool is brimming with multi-talented producers, as seen at beirut design fair 2019.
---
alumni profile: play with a sense of urgency
by rana haddad, AAdipl 1995
project: interference

read more
'radio silence', questions the barrier between the different users by placing a seesaw as a gate belt on a permanently locked door. children were our best clients, proving that any barrier can become unnoticed. such a game turned out to be a risk to the authorities. we were called after two weeks to come and dismantle it.


radio silence – part of bepublic, founded by rana haddad – in horsh beirut, lebanon. students: betina abi habib, zeina bekhaazi, souha boumatar, mario el khouri, and karen madi.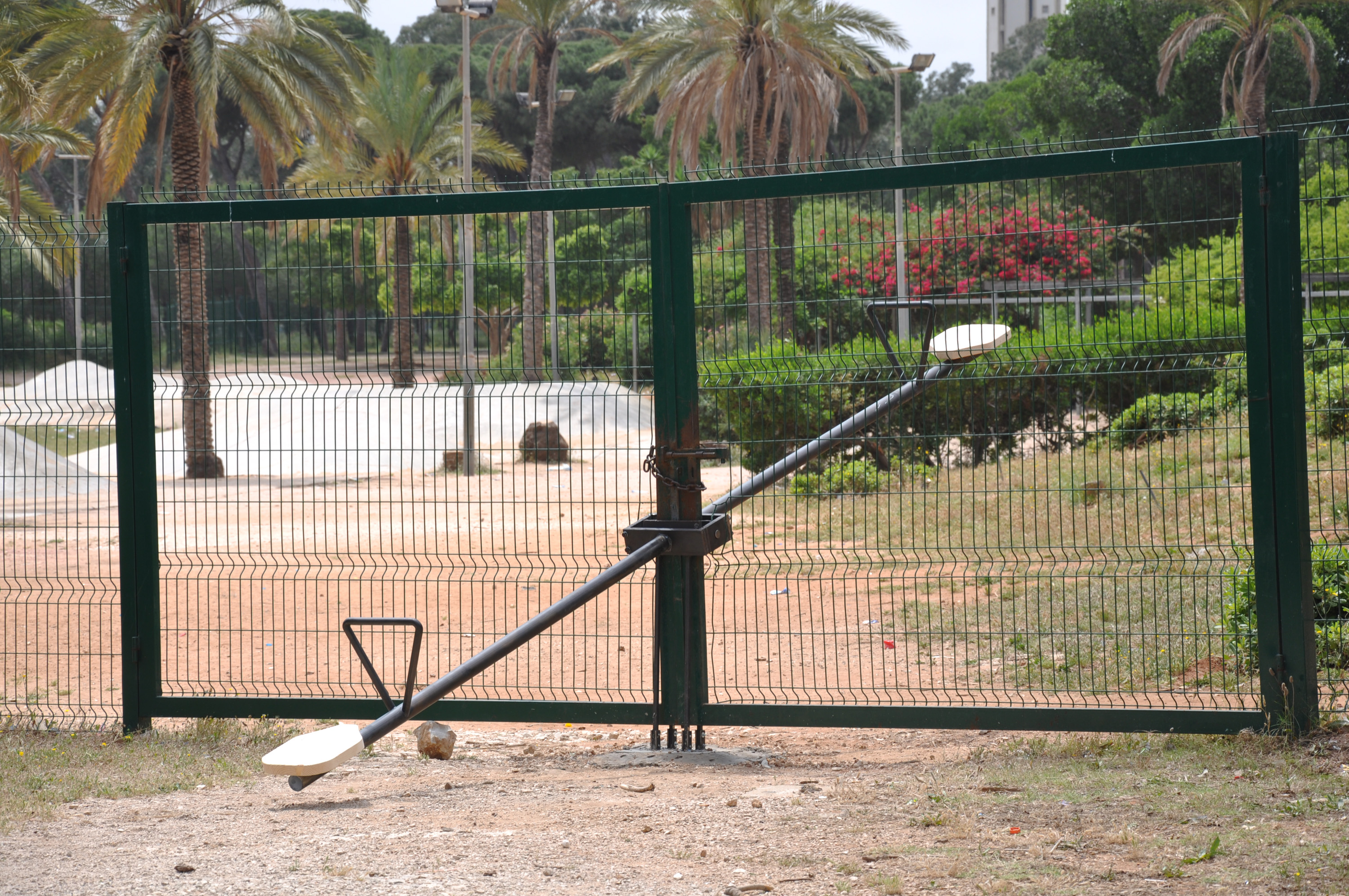 ---
saving the city
by veerle devos, july 2017
project: interference
read more
in may 2016, haddad and her students embarked on a project in horsh beirut, a public garden that had been closed for 20 years. "when it finally reopened, we saw that the authorities had positioned fences to maintain the social segregation that had existed in that neighbourhood during the war. noticing that there was a playground on only one side, we chose to install a seesaw on the fence that separates the two areas. kids took care of the rest. since the main aim of children is to play, which has nothing to do with segregation, the fence disappeared and this became an actual playground for all, regardless of which side they were from.

the action of the kids was loud and clear, and a great lesson to everyone." the name of the intervention was radio silence. three weeks later, haddad and her students were asked to dismantle the seesaw. "it reflects very well our everyday situation. In the words of anthropologist michel de certeau: lá ou la carte coupe, le discours traverse an expression that applies so perfectly to beirut – despite the fact that these installations have a short lifespan, they are creating a ripple effect by staying in people's mind and hearts. ultimately they're bound to make a difference to our daily lives."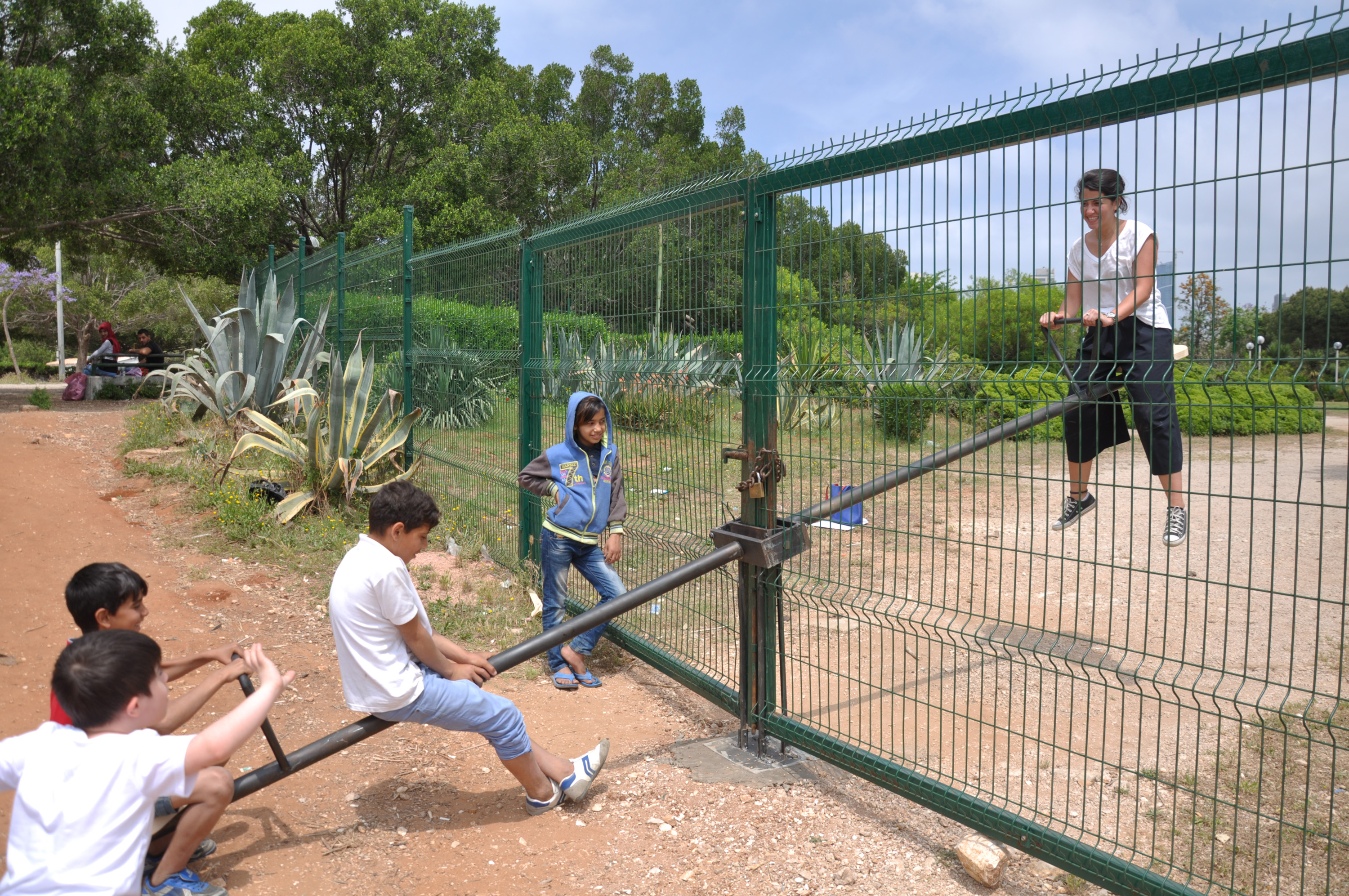 ---
silence in beirut
by marco petroni, june 2016
project: interference
read more
located in one of the city's most controversial points, the horsh beirut park that was bombed and burned in 1982 during one of the many wars that have raged here. until recently, access to the area was forbidden, but now it can be visited on saturdays, while a certain part of the park is open every day. a metal fence separates the two parts.

the silence project connects the two parts by means of a recreational element: a swing hanging directly from the fence. It is an invitation to people on both sides to play together.

how can we redefine a boundary? how can we overcome it? with a smile. naturally, children were the first to jump onto the swing and clarify how no limit is insurmountable. the title given to the installation is emblematic: "the Silence of the radio". clearly, playfulness that tears down walls was something that worried officials, who requested the dismantling of the swing after two weeks, stating it was too dangerous.
---
publication
ArD
publication
postulates of architecture drawings
edited by carla aramounybook design by karim farah
project: thesis
publication bythe department of architecture and design, american university of beirut, 2019 - 2020
read more
this publication compiles and presents a matrix of ArD architecture students' drawings previously displayed in the exhibition, "postulates of architecture drawings". within each sheet, drawing is centralized as a cumulative thought process, conveying the entirety of the idea in a single representation. the intent is not to present projects per-say but rather a matrix of ideas through drawing, highlighting its expanding capacity to encompass technique, meaning, and intention.

architecture design thesis is the culmination of undergraduate education in architecture. in their year-long thesis project, students delve into a research-based design process, beginning with critical themes and resulting in elaborate architecture schemes. From fall to spring of their final year, students develop research, analysis, and design experimentations, into a comprehensive thesis and architecture project. select drawings from 12 thesis projects are presented here, from the graduating class of 2018, highlighting each student's unique use of representation as a critical tool of design.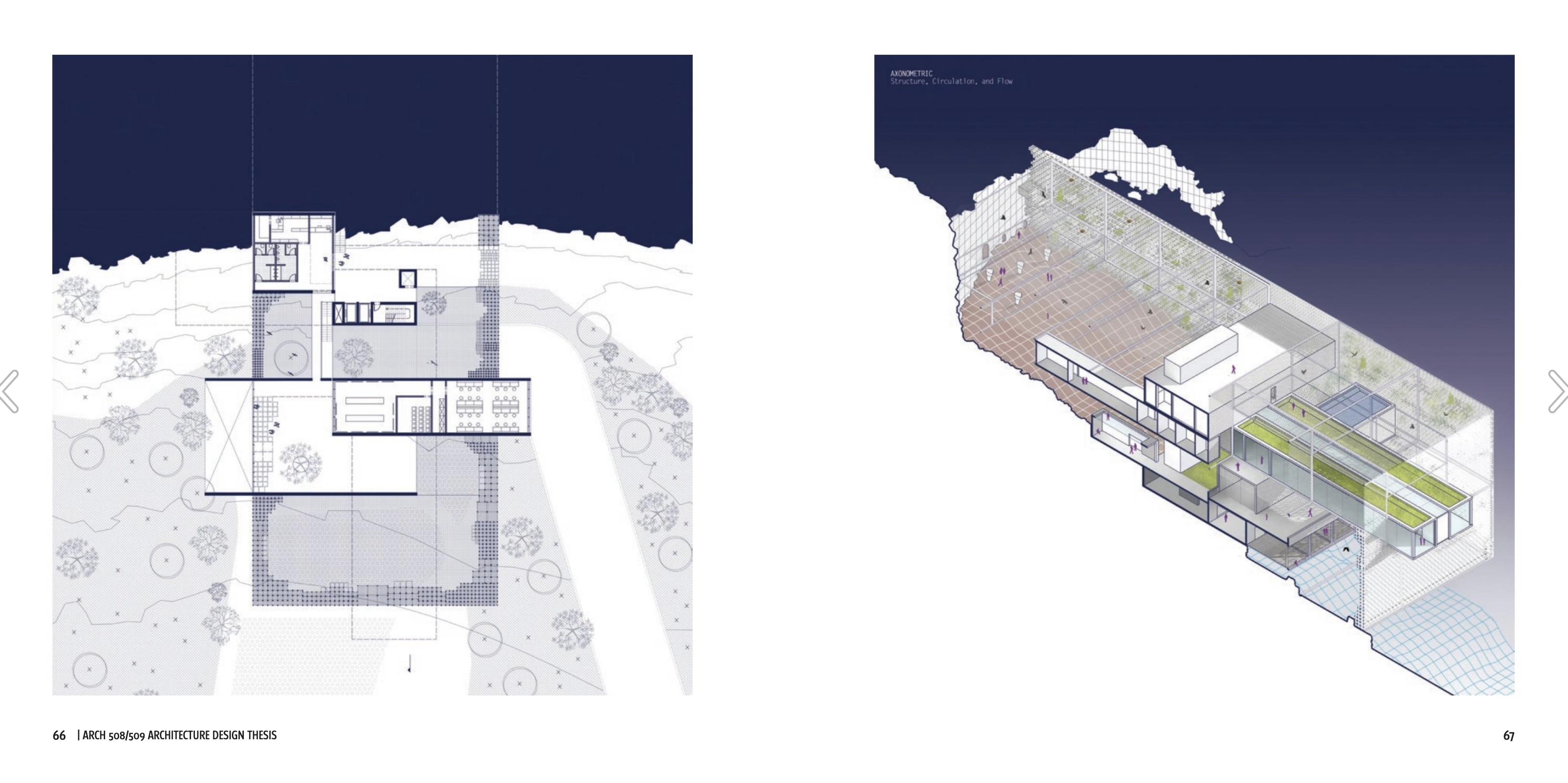 ---